Levels of technical Mountaineering in a nutshell
Mountaineering, a pursuit that finds its roots in human curiosity and the desire to conquer the world's highest peaks, is a multifaceted sport that demands a range of skills and techniques tailored to the ever-changing terrains, conditions, and challenges of the mountains. In the absence of a universal grading system, which varies across countries and regions, it becomes imperative to delineate a comprehensive framework that takes into account key factors such as slope steepness, exposure to hazards, technical equipment requirements, and the physical and mental demands of the climb. In this endeavor, we propose a five-level system that encapsulates the intricacies of mountaineering and provides aspiring climbers with a clear understanding of the challenges that lie ahead.
Keep Reading: A guide to the different mountaineering grading systems and what they mean
Level 1: A Gentle Introduction
At the foothills of the mountaineering journey lies Level 1 – a terrain perfectly suited for beginners and casual hikers seeking to immerse themselves in the world of ascending peaks. This level involves traversing gentle slopes adorned with well-defined trails, minimal obstacles, and a predominantly non-technical approach. The ascent demands nothing more than strong endurance, adept navigation skills, and vigilance towards changing weather patterns. Notably, the absence of technical gear such as ropes, crampons, or ice axes characterizes this level. A quintessential example of Level 1 mountaineering can be found in the famed Normal Route of Mount Kilimanjaro in Tanzania, where aspiring mountaineers can take their first step towards scaling the heights.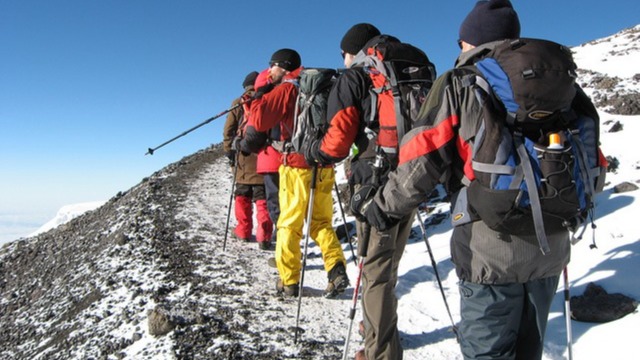 Level 2: A Gradual Ascent
As climbers ascend to Level 2, they begin to encounter steeper slopes interspersed with rocky or snowy sections. Exposure to potential hazards such as cliffs, crevasses, and avalanches becomes apparent, albeit with navigable paths and reasonable safety measures. Basic skills and equipment including ropes, crampons, ice axes, and helmets come into play as the journey becomes more nuanced. The equilibrium of balance, coordination, and altitude acclimatization becomes paramount. The Disappointment Cleaver Route on Compare Expeditions to Mount Rainier in Washington epitomizes this level, demanding a higher level of skill and awareness while offering the promise of an exhilarating ascent.
Level 3: Bridging the Technical Divide
Upon reaching Level 3, climbers venture into the realm of steep snow or ice slopes that introduce a moderate level of technical difficulty. Exposure to a multitude of hazards such as cliffs, crevasses, and avalanches amplifies the necessity for meticulous planning and execution. Technical equipment including ropes, crampons, ice axes, helmets, harnesses, and belay devices becomes indispensable for ensuring both safety and progress. In addition to physical strength and stamina, the ability to work harmoniously within a team gains prominence. The North Ridge Route on Mount Everest in Nepal exemplifies the challenges and thrills that await climbers at this level, offering a taste of the complexities inherent to higher altitudes.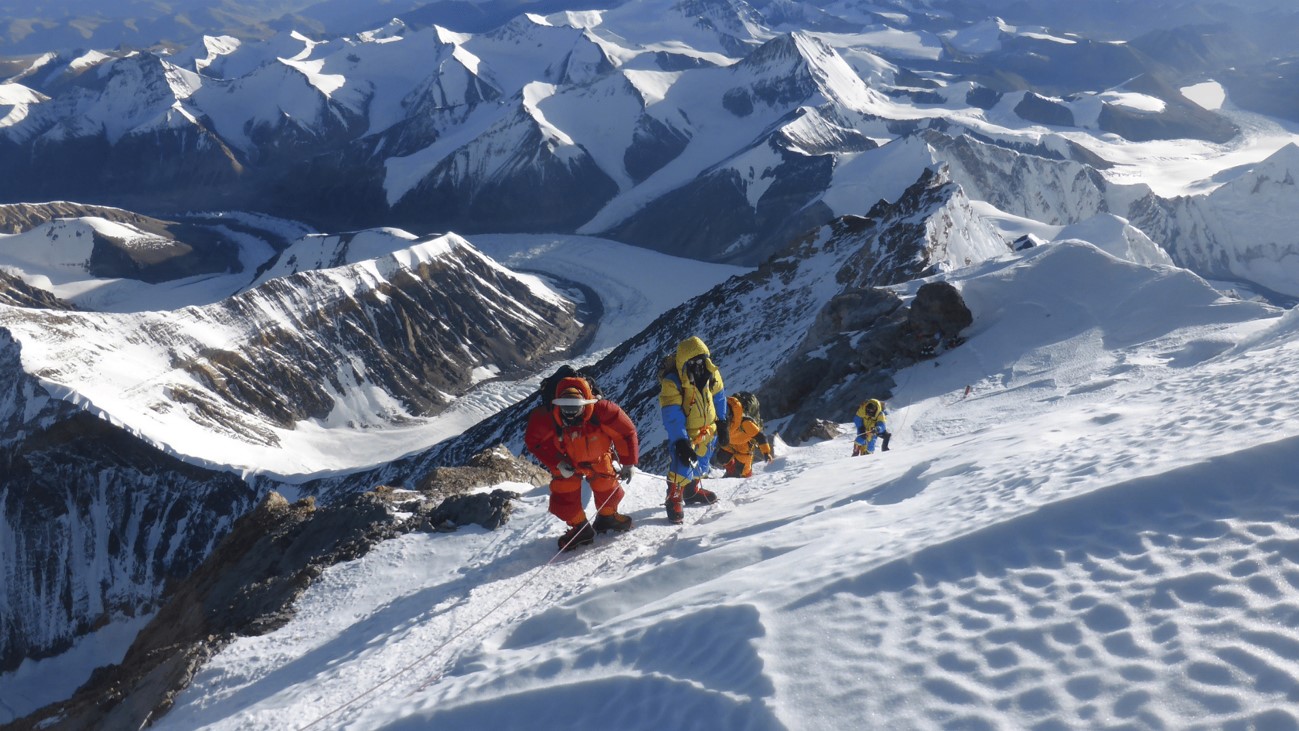 Level 4: Navigating Technical Precipices
Level 4 marks an ascent to a higher realm of mountaineering that presents climbers with very steep snow or ice slopes characterized by a pronounced technical complexity. The exposure to treacherous hazards such as cliffs, crevasses, and avalanches escalates to an extreme degree, demanding the mastery of advanced skills and the utilization of specialized equipment. In addition to the core equipment used in previous levels, climbers must rely on ice screws, snow anchors, and other bespoke gear to navigate the challenges posed by these formidable peaks. Decision-making, courage, and a precise technique play pivotal roles at this stage. The Cassin Ridge Route on Denali in Alaska exemplifies the intricacies of Level 4 mountaineering, where climbers are tested by the mountain's relentless demands.
Level 5: The Pinnacle of Expertise
For the most accomplished mountaineers and professionals, Level 5 stands as the zenith of mountaineering difficulty. Climbers are exposed to extremely steep snow or ice slopes accompanied by the highest level of technical complexity. The unrelenting exposure to cliffs, crevasses, avalanches, and other hazards necessitates exceptional skills and equipment expertise. Specialized gear such as pitons, bolts, cams, nuts, and various anchoring systems become indispensable in ensuring both safety and progress. Climbers at this level are challenged not only by the physical demands but also by the need for creativity, endurance, and an unwavering commitment to the climb. The South Face Route on Lhotse in Nepal stands as an archetype of the formidable tasks that mountaineers face at Level 5.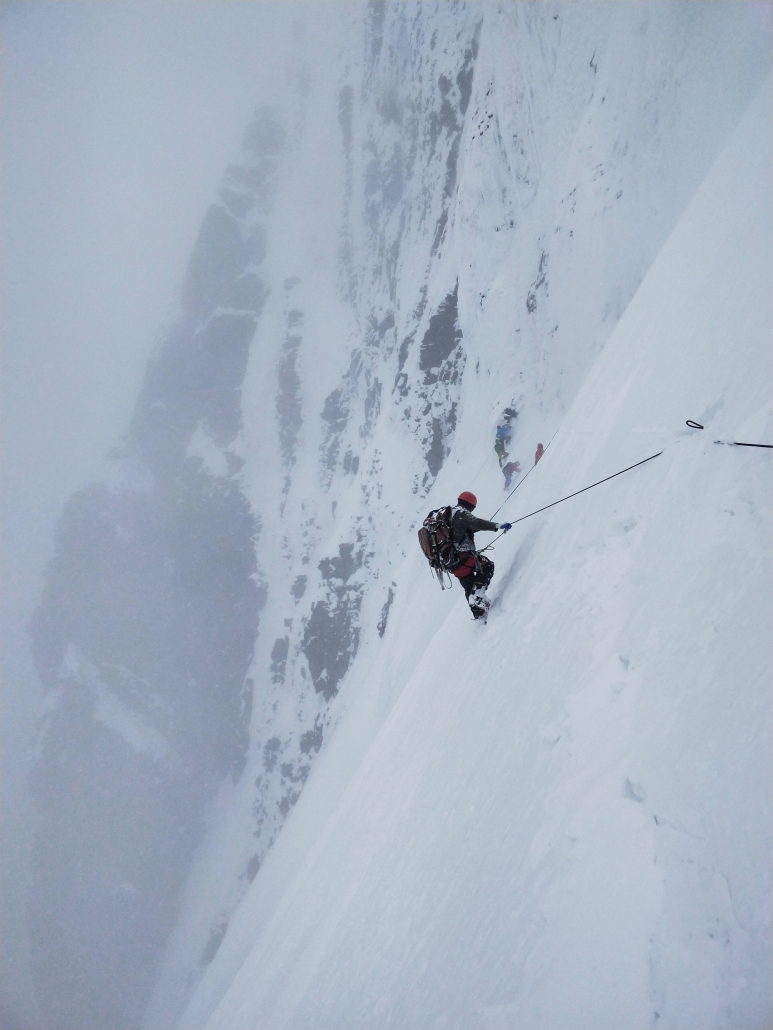 A Holistic Perspective: Beyond the Grading
It is imperative to note that this five-level system provides a mere framework to encapsulate the complexity of mountaineering. Numerous other factors influence the difficulty and enjoyment of a climb, including the vagaries of weather conditions, seasonality, route length, rock or ice quality, access to water and shelter, the popularity or remoteness of the area, and the unique character of the mountain itself. Climbers must also contend with the diverse intricacies of terrain, from verdant valleys to icy summits, each with its own set of challenges.
In conclusion, while the quest for a universal mountaineering grading system remains elusive, a multi-level approach that considers slope steepness, exposure to hazards, technical equipment requirements, and the physical and mental demands of the climb can provide aspiring mountaineers with valuable insights into the challenges they will face. Climbing the towering summits of the world is not merely an exercise in physical prowess; it is a journey that tests character, determination, and the ability to thrive in the face of adversity. Whether beginners on a Level 1 expedition or experts tackling a Level 5 ascent, every mountaineer's journey is a testament to the human spirit's indomitable desire to explore and conquer the heights that beckon from the heavens above
Recent posted
Related locations
Related articles